Mitgefühl
Aus Buddhistischer Sicht ist Mitgefühl einer von "Vier Himmlichen Verweilzuständen". Mitgefühl entfaltet seine heilsame Wirkung erst dann, wenn es mit Wohlwollen, (Mit)Freude und Gleichmut/Gelassenheit einhergeht (vgl. Wetzel 2014, S 80).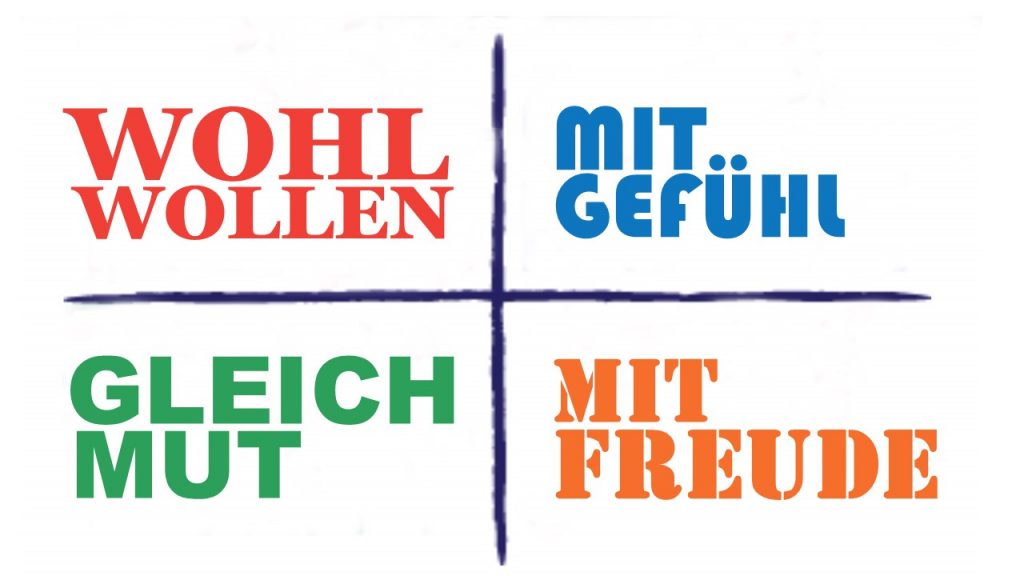 Clara Strauss (2016) gibt gemeinsam mit ihrer internationalen Forschergruppe einen Überblick über die Vielfalt der unterschiedlichen Definitionen von Mitgefühl (compassion). Diese Definitionen betonen im wesentlichen 5 Elemente:
Das Wahrnehmen und Erkennen von Leiden
Das Erkennen der Universalität von Leiden
Emotionale Resonanz
Toleranz gegenüber unangenehmen Erfahrungen
Motivation zu handeln, um das Leiden zu verringern
Definitionen
"Being moved by another's suffering and wanting to help" (Lazarus 1991, p. 289)
An openness to the suffering of others with a commitment to relieve it (Dalai Lama 1995) Buddhist conceptualizations also highlight cognitive components (e.g. the ability to imagine and reason about a person's experiences) and approaching those who are suffering with tolerance and non-judgement.
"Being touched by the suffering of others, opening one's awareness to others' pain and not avoiding or disconnecting from it, so that feelings of kindness towards others and the desire to alleviate their suffering emerge. It also involves offering non-judgmental understanding to those who fail or do wrong" (Neff 2003, p 86–87)
Compassion consists of three facets: Noticing, feeling, and responding (Kanov et al 2006)
"A deep awareness of the suffering of another coupled with the wish to relieve it" (Gilbert 2009, p 13). Compassion consists of six 'attributes': Sensitivity, Sympathy, Empathy, Motivation/Caring, Distress Tolerance, and Non-Judgement.
"The feeling that arises in witnessing another's suffering and that motivates a subsequent desire to help" (Goetz et al 2010, p 351).
"An orientation of mind that recognises pain and the universality of pain in human experience and the capacity to meet that pain with kindness, empathy, equanimity and patience" (Feldman & Kuyken 2011, p 145)
Compassion involves three elements: Kindness, mindfulness, and common humanity (Pommier 2010)
Neurobiologie des Mitgefühls
Dass sich Mitgefühl von Mitleid und Empathie unterscheidet, zeigen auch die Aktivierungsmuster im Gehirn (link).
Videos
Links
Literatur
Brink E & Koster F (2013) Mitfühlend leben: Mit Selbst-Mitgefühl und Achtsamkeit die seelische Gesundheit stärken: Mindfulness-Based Compassionate Living – MBCL. München: Kösel
Ekman P (2014) Moving Toward Global Compassion. San Francisco: Paul Ekman Group
Feldman C, Kuyken W (2011) Compassion in the Landscape of Suffering. Contemporary Buddhism 12(1): 143–155 [pdf download]
Gilbert P (2009) The Compassionate Mind: A New Approach to Life's Challenges. London: Constable and Robinson
Gilbert P (2011) Mitgefühl. Wie wir Mitgefühl nutzen können, um Glück und Selbstakzeptanz zu entwickeln und es uns wohl sein zu lassen. Freiburg/B.: Arbor
Gilbert P (2013) Compassion Focused Therapy. Paderborn: Junfermann
Goetz JL, Keltner D, Simon-Thomas E (2010) Compassion: An Evolutionary Analysis and Empirical Review. Psychological Bulletin 136(3): 351–374. [PubMed]
Gottschlich M (2007) Medizin und Mitgefühl. Die heilsame Kraft empathischer Kommunikation. Wien: Böhlau
Kanov JM, Maitlis S, Worline MC, Dutton JE, Frost PJ, Lilius JM (2004) Compassion in Organizational Life. American Behavioral Scientist 47(6): 808–827. DOI: 10.1177/0002764203260211
Lazarus RS (1991) Emotion and Adaptation. Oxford: Oxford University Press
Neff KD (2003) The Development and Validation of a Scale to Measure Selfcompassion. Self and Identity 2(3): 223–250 [pdf download]
Pommier E A (2010) The Compassion Scale (Order No. 3445994)(Available from ProQuest Dissertations & Theses Global 855633530)
Reddemann L, Wetzel S (2017) Mögen alle Wesen glücklich sein. Mitgefühl und Gerechtigkeit neu entdecken. Ostfildern: Patmos
Singer T & Bolz M (Hrsg) Mitgefühl in Alltag und Forschung. eBook entstanden anlässlich eines Workshops "How to train Compassion" in Berlin 2011[download]
Strauss C, Lever Taylor B, Gua J, Kuyken W, Baer R, Jones F, Cavanagh K (2016) What is Compassion and How Can We Measure it? A Review of Definitions and Measures. Clinical Psychology Review 47: 15–27. DOI: 10.1016/j.cpr.2016.05.004
Wetzel S (2014) Achtsamkeit und Mitgefühl. Mut zur Muße statt Hektik und Burnout. Stuttgart: Klett-Cotta